General information on graduation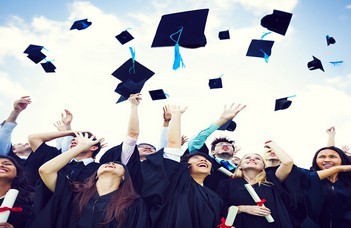 Final Exam Schedule is published for 2020/21/2
Click HERE for the current schedule.
Personal data for the degree certificates (diplomas)
This semester there is no opportunity for checking your personal data in person at the offices. This way it is extremely important, and it is an obligation of students (Academic Reg. Section 36/2) to check in Neptun if your personal data is correct: full name, order of your names, birth name, place of birth, date of birth, and your specialisations connected to your study programme.
If there are changes in your personal data, please report it to Ms Emese Kertész coordinator, since your diploma and diploma supplement are generated from Neptun.
Graduation ceremony
According to the decision of the Dean, the graduation ceremony will be organised in the spring semester of the academic year of 2020/21 between 13-15th July 2021. The participation in the graduation ceremony requires prior registration. Details of the ceremony will be sent to students by the Faculty via Neptun soon.
It is extremely important to add a mailing address to your Neptun though in case you could not participate. The University sends the documents to the mailing addresses automatically. Even if you have a permanent and a temporary address registered, the mailing address is necessary also.
For registering a mailing address, log in to Neptun --> go to My data --> Contact information --> Addresses tab --> click on 'Add new' --> choose the mailing address option --> register the address.
Extension of residence permit, plane tickets, validation of diploma
If you would like to use your Hungarian diploma in your home country or any other country, you have to go through an administrational process in order to validate your degree. You will get the details after your Final Examination.
It is important to plan ahead the extension of your residence permit. The validation process may take 2-3 weeks, so calculate your travel date and extension date like this.
How to make your diploma Apostilled?