Information on COVID-19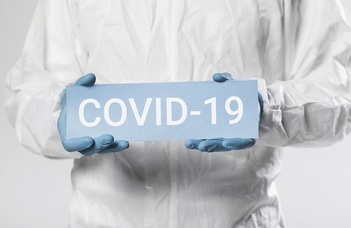 Always check:
Please also find below:
Changes to entry regulations to Hungary
Information for students staying in qaurantine
Health care during the pandemic
COVID-19: CHANGES TO ENTRY REGULATIONS TO HUNGARY
From 1 September 2020 most foreign citizens are not allowed to enter Hungary, unless they were granted exemption by the police based on an official equity request. To arrange an equity request as a higher education student, please follow the procedure described under the "How to arrange an equity request" section.
Due to the worsening statistics, the Hungarian Government has decided to reintroduce border control regulations. This means that, from 1 September 2020, foreign citizens are not allowed to enter the country, apart from some exceptions (see: Government Decree 408/2020. (VIII. 30.)).
Depending on whether you are subject to visa requirement, the following regulations will apply:
Foreign students travelling to Hungary with long-stay, type "D" visa or a valid Hungarian residence permit for a period exceeding 90 days are treated in the same way as Hungarian citizens, thus can enter Hungary without submitting a special request prior to their arrival.

Foreign students travelling to Hungary from visa-free countries need to submit an equity request. More information und documents to download here: https://www.elte.hu/en/visa-procedure
Upon entry, the same regulations will apply to everyone, all students must undergo a medical examination upon their arrival at the border of Hungary. Those who enter Hungary from any foreign country are to be quarantined for 14 days.
You will receive an official decision about the quarantine at your arrival. The base of this decision can be prefilled by the students and we advise you to do so in order to make entering the border faster. Please note that only the
Hungarian decision
is official but we made an
unofficial English translation
to help you filling it.
Students may be released from quarantine only after having two negative tests taken within 5 days, with 48 hours apart. It is important to highlight that only tests conducted in Hungary can be accepted.
You have to contact (via email!) the higher education institution of which you are a student, and arrive at the accommodation specified in the certificate within 24 hours of entering the country.
Please note that you must not leave the quarantine – except with a special permission for conducting the test – until the mandatory 14 days are over or you have the two negative tests. We would like to point out that compliance with the regulations is checked by the authorities and we ask you to adhere to the rules at all times. The breach of the rules will entail the termination of your student and/or scholarship status.
---
COVID-19 PCR test request for ELTE students
Dear Student,
Before you file a PCR test request, please read the following information carefully.
If you are a Stipendium Hungaricum scholarship holder, you are entitled to having two free PCR tests during the entire academic year. If you are a participant of another mobility program (e.g. Erasmus+, CEEPUS etc.) or self-finance your studies in Hungary, you have to cover the costs of the test (19.500 HUF) yourself. We strongly advise you to check if your health insurance makes you eligible to have your expenses refunded by your insurance company.
The tests are taken at Semmelweis University. You will receive all the necessary details and instructions regarding the procedure in an e-mail nofitying you of the date and time of the test.
Please note that if you miss your appointment, Semmelweis University will charge you with the cost of the service regardless (equaling the cost of the test, 19.500 HUF) which ELTE cannot reimburse, even in the case of Stipendium Hungaricum students.
Please make sure to give us a valid phone number and an e-mail address you frequently check.
In order to request a COVID-19 PCR test please fill this datas.
---
INFORMATION FOR STUDENTS STAYING IN QUARANTINE
HEALTH CARE DURING THE PANDEMIC
Useful links:
How to get to doctor/hospital?
In case of emergency:
Please be sure that you have a valid insurance!
How to get a valid insurance?
Book an appointment at
Quaestura
to get your insurance!
for Stipendium Hungaricum students UNIQA is free of charge
for self financed students Generali is available
If you are
in quarantine
and would like to contract, please write an e-mail to Quaestura (
quaestura@elte.hu
) with following the subject: "online health insurance contract – I am in quarantine".
Please book an appointment for the time you can leave your quarantine, and note: you have to hand in the signed contract in person also in the case of an online contract.
Students with insurance can contact:
If you are a Stipendium Hungaricum Scholarship holder student, please make ASAP (as soon as you have all required document) your TAJ-card request at Quaestura Office:
https://qter.elte.hu
.
Please note: with TAJ card you have unlimited access to the Hungarian state financed health care.
EU citizens – "blue card"
This is the free card that gives you access to medically necessary, state-provided healthcare during a temporary stay in any of the 27 EU countries. All necessary emergency health care issues are available with this blue card. You can use it at all state financed health care doctors, e.g.:
What will happen, if I have a positive test?
In case of a positive test the hospital informs the National Public Health and Medical Officer Service. They go to the COVID positive person's accommodation, give them the so called "red paper" for quarantine (+ the people living together there and they will be also tested). They inform you about the quarantine rules. It is possible that together with the National Public Health officer also the police will appear. It is part of the normal protocol, so you do not have to be afraid.
It is very important to be cooperative. Please understand: in case of measurements relating COVID, students who are not cooperative may be expelled from the country.
According to the regulations of the Epidemiological Operative Coordinating Body (JOKT) of ELTE students who are COVID positive must
stay in quarantine!
report it obligatorily to the Epidemiological Operative Coordinating Body (JOKT) at jokt@elte.hu and dekan@btk.elte.hu.
inform your international coordinator at the Department of International Affairs
inform your instructor that you cannot participate your on campus courses (your absence will be accepted)
If you have been in contact with anyone with a proven case of infection, report this to the Dean's Office at dekan@btk.elte.hu.
In normal case persons being COVID positive should stay at home during the healing period.
Please consider: in case of home quarantine you can move free in your flat, you have your own devices, wifi/net/TV, can order food you would like to, etc.
We recommend you to consider, whether you insist on hospital care or stay at home in quarantine, as long as possible (in best situation till the soon recovery). Please note: visiting hospitals is now banned in Hungary.
If you have strong symptoms and are in a bad condition, please call the emergency number: 112. During the pandemic they work with long queue.
---
Announcement of Dean Prof. Dr. Gábor Sonkoly on the coronavirus situation at Faculty of Humanities
Dear Students,
Because of the dramatic spread of corona virus, I am appealing to you to take and respect all necessary measures of precaution to protect yourself, your family and your neighbours.
On 28 February 2020 ELTE's Epidemiological Operative Coordinating Body (JOKT in Hungarian, for short) was granted the power to aid and support the health of ELTE's citizens, basing its measures on the guidelines and obligatory measures set by the State.
In combating the virus, one of the measures enforced by JOKT is the prohibition of entry on University premises for anyone showing the effects associated with the virus (coughing, difficulty breathing, shortness of breath, running a temperature higher than 38oC, muscle pain, unusual tiredness, rapid loss of sense of smell and taste) or if you as a student
have come into contact with anyone infected with the virus in the last 10 days

have been part of an ongoing contact research

have been subjected to official epidemiological measures (such as home quarantine/confinement)
Should you be unable to participate on campus education due to one of the above mentioned reasons, please inform your instructor and your absence will be accepted.
If you have been in contact with anyone with a proven case of infection, report this to the Dean's Office at
dekan@btk.elte.hu
.
Wishing you a successful semester and good health in the name of the Faculty's instructors and offices,
Prof. Dr. Gábor Sonkoly
Dean
---