English Foundation Programme
English Foundation Programme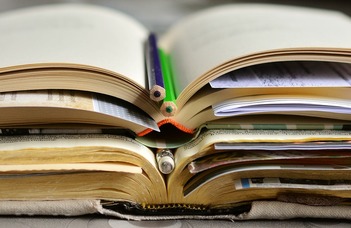 The English Foundation Course (Preparatory Year) has been designed for students who wish to study at ELTE or another European university, but do not yet have the necessary level of language competence and study skills to start a BA degree program. With a minimum of 800 contact hours guaranteed, the course can bring you up to speed in as little as two semesters. The first semester lasts for 18 working weeks (22*45 minute taught classes per week organized into 11*90 minute slots), the second for 19 working weeks (22*45 minute taught classes per week organized into 11*90 minute slots) (as detailed in the academic calendar for every semester).

The aim of the program is to provide a gateway for students to European education, where a good command of knowledge is required. The program equips students with the basic linguistic, cultural and study skills necessary for beginning BA level studies at a European university.
MEET OUR STUDENTS AND PROFESSORS...
GUIDELINES FOR APPLICANTS FOR THE ENGLISH FOUNDATION PROGRAMME (VALID FROM SEPTEMBER 2022)
Strength of program
Language improvement is the core element of the program, with a general course in language improvement, focusing on the basic skills of speaking, writing, listening and reading. To prepare you to use English for study purposes, there are also specialized courses in the accurate use of English grammar and vocabulary, as well as academic reading and writing, and classes on the presentation and discussion skills needed for participation in seminars.
---
Study Skills
Our teachers are there to help you, but you need to develop independent study skills for your future academic and professional career. You will attend courses designed to improve your ability to work on your own, with skills such as setting goals, managing time and monitoring progress. Your teachers will also set tasks to be completed in the Self-Access Centre and advise you on available resource.
---
Cultural Studies
It is impossible to use a language without understanding the culture that surrounds it. The program includes two courses on the major English-speaking cultures, one focusing on the British Isles, one on America and Canada. Other courses cover aspects of European culture in general the culture of your host country, Hungary.
---
Goals
If you take your studies seriously, you should be able to pass the CEFR B2-level language examination offered by the university at the end of the academic year. You will only be admitted to the English and American Studies BA program at ELTE or might be admitted into another institution of higher education of your choice in Hungary or the European Union if you pass this exam (depending on the language requirements of the other institutions).

You should achieve the following scores on an internationally acknowledged (external) language exam:
TOEFL PBT (Paper-based test): 453 – 497
TOEFL iBT (Internet-based test): 46 – 59
IELTS: 5.5
---
List of study units
Generally speaking, a student is taught 3 classes a day of two hours, which are either scheduled to take place during the first or the second half of the day. This means that the student will only have to be present at school for one continous, more-dense, period of time a day. In addition, he or she will have one day á week off.

The yearly schedule will contain approximately 830 contact hours, divided between the Fall and the Spring semester.
---
---
Absence Policy
General Guidelines and Absence policy for the Foundation Programmes
Our policy on absences from class is based on the standard regulations of this university (accessible at https://www.elte.hu/en/dstore/document/1/ELTE_SZMSZ_II_EN.pdf), adapted to the length and conditions of the Foundation Programme.
Note the following:
the foundation programme is taken as a 'package' including all the subjects of the curriculum. You cannot choose which subjects you want to attend. All are compulsory for an active semester;
the foundation programme can be taken for a maximum of two academic years (= 4 semesters)
you should inform your teacher in advance of any absences, providing an acceptable reason;
if your absence is caused by an emergency, you should contact your teacher afterwards, providing an acceptable reason;
the message to the teacher explaining absence (whether before or after the class) is not in itself an excuse for that absence and does not mean you are exempt from anything;
if you miss more than 30% of your classes in one subject within a period of 4 weeks, you will not get a grade and you will not receive any credit for that subject. We will turn your active status passive in neptun and you will no longer be able to attend your classes. We will also fulfil our legal obligation to forward your case to the National Directorate-General for Aliens Policing because your residence permit is issued for education;
if you miss your classes in one or more subjects for 2 weeks in a row, an official letter will be sent out calling you before a committee to explain your absence from classes; if you appear and explain the cause of your absences you might get a chance to stay active but you cannot miss more classes;
if you do not respond to this, we will fulfil our legal obligation to forward your case to the National Directorate-General for Aliens Policing;
if you attend a course and fail it (= get a 1 'fail'), you will not be able to retake it in the second semester (as shown in he study unit list), but you may continue your studies in the programme;
if you pass ALL the courses in the 1st and the 2nd semester, you will get a certificate of completion of the foundation programme. If you fail any of the courses, there will be no such certificate;
the certificate of completion will also show whether you accomplished B2 level during the foundation programme;
whether you get a certificate of completion or not, you will get a certificate of accomplished credits (showing all the credits for all the courses you pass in the 1st and the 2nd semester)
Done in Budapest, 1 Sept 2019
Department of International Affairs
---