Dean's welcome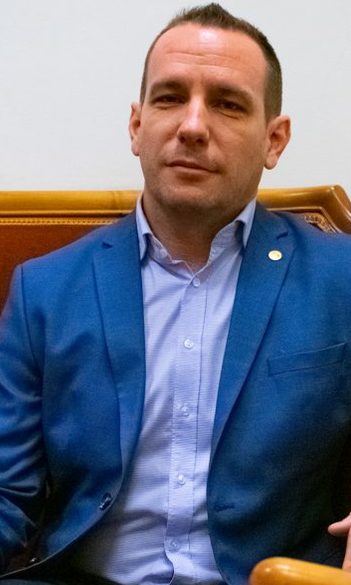 Welcome to the Faculty of Humanities of Eötvös Loránd University – Hungary's oldest and most comprehensive faculty of its kind. We are proud to have an outstanding reputation for our teaching and research in the humanities and all related in interdisciplinary fields.
Our faculty – also known as ELTE BTK – promotes a dynamic and vibrant study environment, which aims at inspiring the next generation of global citizens.
Whether you are considering doing an undergraduate major, earning a Master of Arts degree or a PhD, or attending a foundation course in English or Hungarian, you will find many of your questions answered on this website. I encourage you to learn more about the Faculty of Humanities and plan a visit to our campus to see first-hand the strengths of our programs and the benefits of receiving your formal education in Hungary.
Our educational vision in the new millennium has begun to extend beyond the gates of our campuses, and by now we must acknowledge that one can hardly encounter a duty that is more important than using our resources to educate the young, be it on a local or a global level. We are genuinely and seriously committed to this goal.
ELTE BTK is Hungary's longest standing and most prestigious faculty. In 2020, our Faculty – together with ELTE University – celebrated the 385th anniversary of its founding, which aptly indicates our leading position in scholarship and the stability it represents, not only in Hungary's scientific and social history, but also in East-Central Europe's variegated educational landscape.
Our Faculty is not only the oldest and – for over seven consecutive years – the absolute best in the country, but also the largest institution in Hungary, with 18 institutes and 71 departments offering 47 Bachelor's, 61 Master's and 75 PhD programs of 4 doctoral schools.
As Hungary's most innovative and progressive faculty, we are proud to make a difference in maintaining constant scientific dialogue with the universities and research institutions of the target regions of the world; its cultures, literatures and languages are all incorporated into our internationally acknowledged curricula. We teach 62 different foreign languages at the Faculty, which continuously helps us strengthen our position as one of the region's first-rate institutions, supported by world-class international research collaboration. The expertise our instructors use to disseminate knowledge – in academic and practical realms alike – to nearly 8,000 students also contributes to the social and economic development of Hungary and the Central European region. We believe in the fact that the teaching of languages is instrumental, as it to help us find ways to integrate language study into the rest of the curriculum. This has become a core idea behind the process of internationalization that the Faculty has recently initiated. Without bias, we can now designate ourselves as a truly "international faculty."
I am proud to say that at present, hundreds of international students engage in full- or part-time studies at our institutions at preparatory, BA, MA and PhD levels. We have been working hard for the past several years to attract international students who are keen to attend the foreign language programs of our Faculty. A wide range of full- and part-time programs is available for our international students, and we are happy to have introduced several exciting, foundation programs, including General English, English for Specific Purposes in Applied Economics, Informatics and Technology, and Medicine, as well as a Foundation Course in Hungarian for Foreigners.
We are striving to build a global faculty, which can provide our students with the opportunity to gain international experience and broaden their horizons inside and outside the narrower fields of humanities. We provide opportunities for students to study abroad, to learn foreign languages and to combine their academic studies with work experience through placements and internships. We are committed to life-long learning and offer courses for professional development.
We look forward to having you as our student. Learn about our people – our gradually expanding portfolio, our dedicated students, our renowned faculty, and our incredible alumni network that spans the globe. Our ambition is to become one of the leading humanities faculties in the world.
Cordially yours,
Dávid Bartus, PhD
Dean