Coaching and other trainings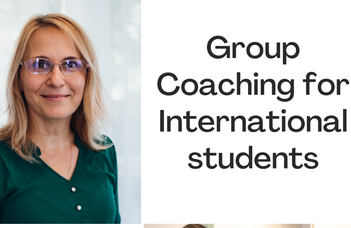 My-Best-Self Group Coaching
The strengths and benefits of group coaching
We might have followed a different path of life so far but what we have in common is the same desire:
We want a satisfied, balanced, harmonious life, in which we can cope with difficulties.
The strength of the community multiplies our own strength, faith, and motivation. This triple is one of the most important keys to long-term growth and success.
We learn a lot from each other during group coaching occasions. Listening to each other's experiences and providing mutual feedback gives us the opportunity to experience a real breakthrough faster and deeper.
Bonus: you get to know people you would probably not meet otherwise. :)
Topics:
What holds me back from doing what I want to?
My values and how I can stand up for myself
Good conflicts – how they help me; conflict management
What I can do for myself when I am down
Bring your own topic into the group
3 sessions, 2x90 minutes/session (it is also possible to register for one session), during the semester.
Group coaching dates in the spring semester 2021/22
Session 1: 16:30, 1 March 2022 (Tuesday)
Session 2: 16.30, 22 March 2022 (Tuesday)
Session 3: 16.30, 26 April 2022 (Tuesday)
Location: online on Teams, if the pandemic situation gets better, we move onsite at ELTE BTK (it will be provided for the registered participants).
For the registration, please send your
ELTE email address
Neptun code
name of your study programme
---
Being an international student (online): Transitions, communication, well-being
Who for?
If you are an international student at the ELTE Faculty of Humanities for the next few months, this workshop project is for you! You are about to embark on a journey – a real or virtual one - in strange and difficult times. We would like to help you to make the most of the exciting and challenging experience that lies ahead. It'll be a real venture because you will engage with an unfamiliar country, culture and education system. With this in mind, we are planning to hold three workshops throughout the spring term to accompany and assist you on this journey.

Project aims
help you understand and cope with the process of cultural transitioning

make your cultural and educational experiences sources of learning, insight and personal growth

ensure that your psychological and social well-being is guaranteed throughout this time

create a small international community that also functions as a support group
Trainers
Dr. Uwe Pohl (Department iof English Language Pedagogy, ELTE, Faculty of Humanities)
Bori Nagy, HELP coach
In the periods between these workshops we will use an online platform to keep in touch, to share insights and to discuss any emerging issues or questions.
Language of the training: English