We congratulate our graduated students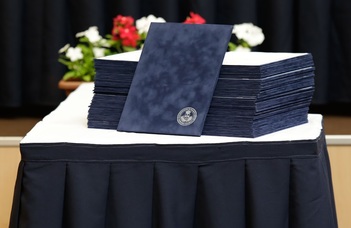 In the Spring semester of Academic Year 2020/2021, 66 international students graduated at the Faculty of Humanities. After 1.5 year, the Faculty could organize a Graduation Ceremony.
Due to the pandemic, the past 1.5 year was extremely difficult for teachers, staff and students of the university. The online education, though it has many advantages, completely changed everyone's life, and it caused technical and social difficulties for many international students. Three semesters passed by having the Final Examinations also online. Finally, on 13th July 2021 there was an opportunity to meet again; the Faculty could hold a Hungarian-English language Graduation Ceremony.
The queue was long at 9:00 am in front of the Gólyavár building: excited Hungarian and international graduated students with their parents, relatives, and friends were waiting for their registration for the Graduation Ceremony before entering the ceremony hall. The ceremony started at 10:00 am in the Mária Terézia ceremony hall. Graduated students were congratulated by Prof Ildikó Horváth, Vice Dean for international affairs, and there were nice musical performances given by the students and professor of the Institute of Arts Communication and Music of the Faculty. More than half of the graduated international students could participate the Graduation Ceremony.
In Spring 2020/21, 66 international students graduated from the following programmes:
English and American Studies BA
Germanic Studies BA, Specialized in Netherlandic Studies
Germanic Studies BA, Specialized in Scandinavian Studies
American Studies MA
Assyriology MA
English Studies MA
Film Studies MA
French Language, Literature and Culture MA
German Language, Literature and Culture MA
Instruction of English as a Foreign Language MA
Logic and Science Theory MA
Semiotics MA
Congratulations on your successful graduation, and wish you all the bests for your future life.