Prospective Students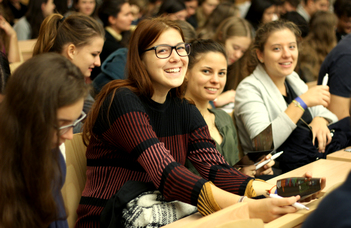 Broaden your knowledge. Shape your future.
Why Hungary?
A truly unique and exciting country, Hungary is one of the most stunning places in the heart of East Central Europe. With its noble traditions and cultural diversity, Hungary provides a welcoming and hospitable environment for all visitors.
Hungary has seen tumultuous years throughout world history. Rulers came and went. Empires rose and fell – still Hungary kept renewing and developing and celebrated the 1000th anniversary of its foundation in 2000.
Hungary has always enjoyed a well-deserved reputation for its excellence in education. We are proud to say that students from all over the world come here to continue their studies in all scientific fields.
Some reasons why you should choose Hungary as your ultimate study destination:
Easy access – a gateway to Europe
Excellent value – reasonable costs of living
Cultural wealth
Endless education possibilities
Thermal waters
Stunning architectural styles
Superb gastronomy and fine wines
Friendly and open-minded people
Why Budapest?
Budapest, the capital of Hungary, is a large cosmopolitan city of more than 2 million inhabitants. Hungary and Budapest itself have an abundance of history, culture and entertainment to offer students and visitors alike. Despite the elements of modern life, Budapest still feels slightly nostalgic, often evoking turn-of-the-century feelings. Art nouveau is present at nearly every nook and cranny of this dynamic city, which harmoniously amalgamates elements of Roman and Turkish history. Budapest is within easy reach from the gateways of Europe.
Why ELTE Faculty of Humanities?
An international faculty in an international city
The Faculty of Humanities of Eötvös Loránd University (commonly known as ELTE BTK) is world renowned for its academic and research excellence. Over the past seven consecutive years, it has ranked absolute first among 168 faculties of 70 universities in Hungary. The high-standard education Hungary offers is recognized in Europe and all around the world - that's why students from over 30 countries have applied to the Faculty of Humanities of ELTE.
Historical traditions
ELTE BTK celebrates its 376th anniversary of its foundation this year. Since 1635 hundreds of prominent, opinion-shaping members of the Hungarian society (historians, members of the clergy, writers and poets, heads of state, soldiers and politicians) have pursued their studies at the Faculty of Humanities. ELTE is Hungary's longest continuously functioning university with rich traditions in educating future generations and fostering advancement in almost every field in the humanities.
Ranking
ELTE BTK has ranked absolute first for the past seven consecutive years among 168 faculties of 70 universities in Hungary. It is currently Hungary's most popular faculty due to its scholarly excellence, academic research, vibrant cultural life, and its commitment to developing top employability skills.
Study programs – the richest educational portfolio in the country
Our Faculty provides 58 BA majors in 13 BA programs. Three types of MA programs are at various stages in the accreditation process at our Faculty. 49 disciplinary, 6 interdisciplinary and 21 teacher-training programs have completed this process as of January 2011, and were launched in September. The 71 PhD programs offered at present are part of 5 larger units, known as Doctoral Schools. 17 shor-term programs are offered to international students, who wish to study with us for one or two semesters.
Languages
In addition to offering the broadest range of study programs in Hungary, ELTE BTK teaches 71 foreign languages and their related cultures and civilizations. This number is staggering and beyond compare even on a global scale.
Internationalization
ELTE BTK maintains a diverse and wide-ranging network of international relations. The foreign language departments of the Faculty are in constant scientific dialogue with the universities and research institutions of the target cultures/regions, and thus are active members of the international scientific community. Our constantly growing international community has many choices to make the best of their stay in Budapest: extracurricular activities, special events, get-togethers are organized by the International Student Office on a regular basis. Our aim is to make the Faculty everyone's home-away-from-home. In cooperation with the diplomatic missions accredited to Hungary, our Faculty has played an instrumental role in building bridges between cultures, nations and religions.
Degrees
ELTE BTK offers many opportunities to its students to gain internationally recognized knowledge, competences and skills, which are in line with the popular tendencies of globalization. Our world-class Faculty offers degree courses at BA, MA and PhD levels. Special short-term programs (one or two semesters) for international students are available throughout the academic year.
Academic excellence and your future
According to the latest entrance exam statistics the Faculty of Humanities is home of the best and most gifted students nationwide. With nearly 8,000 students, the Faculty has been a stronghold of scientific knowledge all over Hungary. Employers inside and outside Hungary are aware that a graduate from ELTE BTK will be of an extremely high standard. Coming to our faculty will increase your career prospects by the time you earn your degree.
World-class academic staff
We are proud to have a highly qualified and internationally reputed academic staff, including members and doctors of the Hungarian Academy of Sciences. Our professors lead their fields, pooling academic resources to produce pioneering research and sharing their findings with ELTE students, Hungarian and international citizens alike.
Alumni
Our Alumni Association seeks to develop the educational, professional and community standing of graduates by offering networking opportunities. Our alumni have become the so-called trademarks of Hungarian culture and media, making ELTE BTK a citadel of knowledge. It is our students that shape the future of Hungary.
Intellectually stimulating campus life
Our vibrant campus life in the heart of Budapest enhances intercultural communication among students of different nationalities. Clubs, recreation possibilities, eateries and restaurants, cultural and leisure activities seek to create close-knit student communities. Trefort Garden is one Hungary's most stunning, greenest and best-equipped campuses in the country.