13th International Student Poster Presentation Conference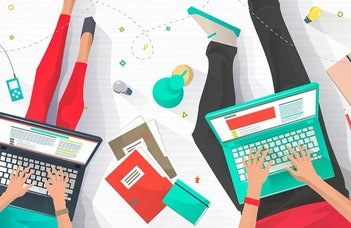 We would like to call your attention to the upcoming International Student Poster Presentation Conference (ISPPC) in English and American Studies to be organized online between
8th–12th May 2023
.
We encourage students at all levels (BA, MA, and PHD) to participate with a project they have completed (or are in the process of completing) for their courses, or as their theses. Posters will be on display online for a week for colleagues and fellow students to see, and on 8th (Monday) and on 12th (Friday) May 2023, discussions with the posters' creators will be possible using an online platform through MS Teams.
The Poster Presentation Conference provides an excellent opportunity for students to present and receive feedback on an interesting home paper, a chapter or initial ideas of their thesis, or some other research project in any phase. It is also a great opportunity for students to showcase their work in an international context.
Poster presentations will be designed digitally and displayed online , where colleagues and fellow students can look at them, comment on them, and ask questions from the authors. The opening event and the closing event of the week will be held on MS Teams on 8th and 12th May 2023, respectively. Additional technical information on the use of the platform for the poster presentations and creating online posters will be provided to those whose applications have been accepted. Attendees and an academic panel will vote for the best poster to be displayed offline in the building of SEAS.
Posters are welcome in any of the following topic areas related to students' work within the scope of English and American Studies:
English and American literature
English and American history
English speaking cultures
Theoretical linguistics
Applied linguistics
Language pedagogy (including ELT)
Students should apply using this application form.
In their application, students are requested to include:
the TITLE of the poster presentation;
a 200-word SUMMARY of the poster presentation;
applicant's NAME and E-MAIL ADDRESS;
TOPIC area (English and American literature, English and American history, English speaking cultures, Theoretical linguistics, Applied linguistics, Language pedagogy (including ELT)); and
LEVEL (BA, MA, PhD)
BA and MA students should also include the NAME OF AN INSTRUCTOR at their respective universities who has agreed to support their application. (PhD students don't need a reference.)
Deadline for applications: 27th March 2023
Deadline for sending the posters: 17th April 2023
Deadline for sending the corrected posters: 24th April 2023
The Organizers
| | | |
| --- | --- | --- |
| Dániel Cseh | History & American culture | |
| Annamária Fábián | Literature | |
| Cecilia Gall | Language pedagogy& English-speaking cultures | |
| László Katona | Applied linguistics | |
| Krisztina Szécsényi | Theoretical linguistics | |
| Attila Wind | Applied linguistics | |