Research award won by our MA student
English Studies MA student Louiza Nigro won a research award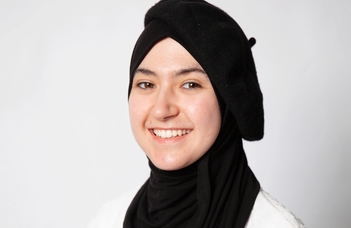 English Studies MA student Louiza Nigro won a research award at the World Youth Forum Right to Dialogue XIII edition organised in Trieste.
The World Youth Forum Right to Dialogue XIII edition was held between 2 and 4 October 2020. The forum was organized by the Poetry and Solidarity Association in collaboration with the International Study and Documentation Centre for Youth Culture (iSDC) - Trieste. The theme of the forum was "Education": Practices, Challenges, Strategies of Intergenerational Dialogue.
Louiza represented Algeria as her home country, and Hungary also as a student of Eötvös Loránd University Faculty of Humanities with her work titled The challenges of banking system towards formal educational settings - Study case: pedagogical practices among educational stakeholders in Algeria (introduction to pedagogy of the oppressed). She has been studying at ELTE as an English MA student specialised in applied linguistics, and beside it she is very active with volunteering and teaching. She is also an International Student Representative at the Faculty.
She won the research award after publishing more articles and works, but she takes her success humbly.
"Through the years I have been active as a youth worker, I never counted how many articles I could publish or how many initiatives I took part of and how many humble awards or testimonies I got or wanted to get.
I always believe that the impact and the change behind what I do is the real award I get. I learned from Professor Gabriella that a research without an action is just a reference.
That is why I would like to express my gratefulness for Professor Gabriella Valera (the Scientific Director ot the Forum) and the rest of scientific board members who trusted my research to get awarded during the 13th edition of World youth forum , Trieste Italy."
The final booklet of the Forum was published online in January 2021 with Louiza's and the other participants works. The booklet is available HERE.
Congratulations, Louiza. We wish you further successes, and also keep your never-ending enthusiasm for everything you do.