Summer Universities
28th Summer University of Hungarian Language and Culture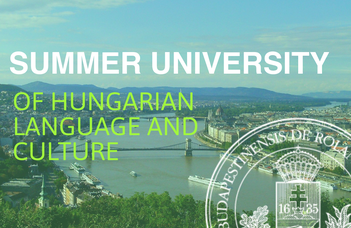 28th ELTE Summer University of Hungarian Language and Culture - it is a four-week program offering an intensive Hungarian Language Course with many cultural components. The summer university brings together international students for an intensive Hungarian language course, lecture series about Hungarian culture, and social activities organized in and around Budapest. There is a possibility to take part in the first 2 or 3 weeks of the program with adjusted course fee.
When: 24 July – 18 August 2023
Where: Eötvös Loránd University, Budapest, Hungary
Language: English and Hungarian
Participants: International students and adults, who want to learn Hungarian language
Application period: OPEN NOW (privacy notice)
Course fee
Age limit: the program is open to candidates who are above 18 years old and finished secondary school.
By clicking on the pictures have a look at the program for this year and check all the practical information, including costs, discounts, application procedure, accommodation, and location of the courses.