Intensive Hungarian Foundation Course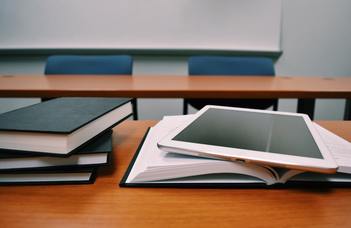 The Intensive Hungarian Foundation Course designed to anyone interested in the Hungarian language and culture is the ideal way to jump-start your future academic or professional life in Hungary. With a minimum of 800 contact hours guaranteed, the course can bring you up to speed in as little as two semesters.
Divided into two terms, the aim of the course is to provide students with a system of tools allowing them to successfully manage communicational situations arising in the target language environment and enabling them to comprehend factual texts containing the basic structures of the language, in both reading and writing.
In the second semester, students are provided with the full formal system of the Hungarian language. The course subjects, aimed at developing the various language skills, now concentrate on, among other things, independent written compositions and language use for expressing opinions. The reading program gradually leads from comprehending texts with the help of a dictionary up to the independent processing of texts. The latter subjects can be expanded by developing the basic vocabulary according to the students' wishes into various study areas, such as history, literature, sociology.
Apart from the intensive language classes, the additional Hungarian cultural lectures give an overview of the main events in Hungarian history, Hungarian literature, linguistics, folklore, cultural history and sociology. These lectures are held in English.
This two-semester program provides students with the necessary skills and knowledge that enables them to continue studies in Hungarian at a university level or to use Hungarian as an intermediary language at work.
Strength of program
The program is provided by the Department of Hungarian as a Foreign Language, which is the national centre for Hungarian teaching for foreigners and teacher training in Hungarian as a foreign language.
---
FIRST SEMESTER INTENSIVE COURSE
Communication
Introducing oneself
Countries, nationalities
How old are you? How much? (numbers)
Where is it? – Objects, people, buildings (names and types of buildings)
Shopping in shops and at the market
Ordering in restaurants, coffee shops, cafeteria (names of foods and drinks)
What time is it? → time expressions
At home
From day to night → daily routine
At what time?/When? → description of events
How to get to…? → In the city (public transportation, getting information, ordering taxis)
At the train station → at the cashier and on the train (main Hungarian cities)
Family (members of the family, description of people)
I like/I dislike

Grammar
Conjugation of "to be" – nominal sentences
indefinite conjugation (singular)
definite conjugation
postpositive constructions
Where? To Where – answering locatives
Plural of nouns
indefinite conjugation (plural)
From where? - answering locatives
Verbal prefixes
Possessive pronouns 1.
Possessive pronouns 2.
Habeo construction
Definite conjugation 1.
Definite conjugation 2.
Revision

Course Material
Durst Péter: Lépésenként magyarul. Első Lépés. Szegedi Tudományegyetem.
Durst Péter, Péter Nóra: Lépésenként magyarul. Első lépés – Magyar nyelv kezdőknek. DVD. Szegedi Tudományegyetem, Hungarológiai Program.
Szili Katalin et al.: A formától a használatig (Grammatikai gyakorlatok), ELTE, 2009.
---
SECOND SEMESTER INTENSIVE COURSE
Communication
If I have some free time (free time activities, booking holidays, travelling)
Having guests over (inviting people over, phrases)
Being a tourist in Budapest and in other Hungarian cities (cities, sightseeing, how to spend time in a place)
In the theatre, cinema, and in other facilities (inquiring about places, prices, buying tickets, understanding leaflets, expressing opinions)
This happened... → past expressions
Biography (talking about one's life, editing a CV)
I'm looking for a job... (jobs, basic skills, understanding job advertisements)
Using Hungarian in everyday situation – at the post office, police station, car repairs, travel agencies)
Asking and giving directions
On the road in Hungary (description of the countryside, towns, booking holidays in Hungarian, understanding leaflets, expressing opinions)
Jobs, working place, career (the working environment, work, opinions on different jobs)
Looking for a job (future plans, describing one's skills, understanding job advertisements, job interviews in Hungarian)
Family gatherings

Grammar
the habeo construction
-t past tense conjugation
"ott, -ett, -ött" type of past tense conjugation
time expressions: -val, -vel ezelőtt; óta
the comparative and superlative
how?/in what way? – answering specifiers
functions of the imperative (request, advice, order, instruction, etc)
expressing objectives with affixes and clauses
functions of the conditional
pragmatics of the imperative and conditional
conjugation of the infinitive
adverbial participles
co-ordination
subordination 1.
subordination 2.
Revision

Course material
Durst Péter, Péter Nóra: Lépésenként magyarul. Második lépés – Magyar nyelv haladóknak, DVD
Durst Péter: Lépésenként magyarul. Nyelvtani gyakorlatok haladóknak. 2001.
Durst Péter: Lépésenként magyarul. Második lépés – Magyar nyelv haladóknak. Szegedi Tudományegyetem, Hungarológiai Program.
---
LIST OF STUDY UNITS